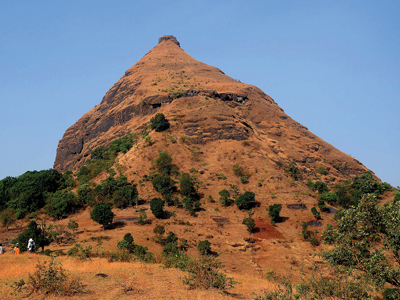 Budhya hill
---
Location Type
---
Hill Fort
Best season
---
All
Distance from nashik
---
44 K.M.
Trekking facts
---
Way:
From West side of Waaki village.
Time To Climb :
1 hours 30 min / half day trek
Difficulty Level:
easy
Spread:
Small
Water Availability:
Not available
Carry Along:
No special equipments
Guide:
Take guide from Waaki village
How to reach
---
NASHIK to Budhya hill
Reach By Car:
Convenient by car. Rent a car facility available at Nashik. Taxis and sharing vehicles available at Ghoti till Waaki.
Reach By Bus:
Buses available from Nashik till Ghoti. From Ghoti buses available up to Waaki.
Reach By Train:
Trains availabe up to Nashik Road and Igatpuri.
By Boat:
No boat route.
Facilities available

Accommodation

Food

Garage

Medical aid

Near By Places

Petrol Pump

Shelter

Souvenir
---
Location Details
---
Budhya is a peak and not a fort, so there is no historical reference to this peak in the battle times. It has not witnessed any event of victory or defeat.
User Experience
---
Budhya mountain can be noticed due to its peculiar shape it gets from the steeply falling ridge. A small river has to be crossed near Waaki village in order to reach the hill. This adds to the excursion making it completely picture perfect. The pathway from the village takes one directly till the foothills. One has to follow the steep ridge in order to reach the top. The climb is easy but slippery. While climbing, at the left is a roofless temple of Goddess. Being a peak, the view Budhya offers is simply fascinating. To the East is the Kavnai fort which became a part of the Swarajya after the coronation ceremony of Chattrapati Shivaji Maharaj. The calm and serene Tringalwadi can be seen towards the west. To the North are the crystal clear waters of Vaitarna dam, turning the complete atmosphere pleasant. To the South is the spread of Igatpuri village on the Nashik – Mumbai route. The ghats of Igatpuri provide breathtaking valleys and water falls at number of places making the place nothing lessthan a dreamland.
Do Not Miss
---
• Devi temple at middle level on South side. • East side view of Kavnai fort and Waakigaon at the base. • West side view of Tringalwadi fort. • North side view of Vaitarna dam. • South side view of Igatpuri range.
Treks scheduled
Trek Date
No of people
Charges