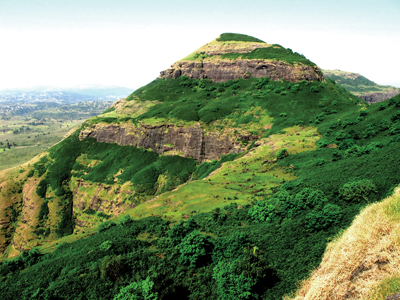 Mhalunga hill
---
Location Type
---
Hill Fort
Best season
---
All
Distance from nashik
---
48 K.M.
Trekking facts
---
Way:
From Igatpuri pumping station reach Eastern khind of Mhalunga. Start climbing from the West route besides temple there.
Time To Climb :
2 hours /Half day trek
Difficulty Level:
easy
Spread:
Large
Water Availability:
Water tank at the extreme West end on top
Carry Along:
No special equipments
Guide:
Take one from Igatpuri
How to reach
---
NASHIK to Mhalunga hill
Reach By Car:
Convenient by car Rent a car facility or Sharing vehicles available from Nashik.
Reach By Bus:
Buses available from Nashik up to Igatpuri.
Reach By Train:
Trains available up to Igatpuri or Nashik Road.
By Boat:
No boat route.
Facilities available

Accommodation

Food

Garage

Medical aid

Near By Places

Petrol Pump

Souvenir
---
Location Details
---
Mhalunga does not have a strong history and so is not mentioned much in the pages of history.
User Experience
---
The Ghoti Igatputi region near Nashik is like Cherrapungi of Maharashtra. The place of Igatpuri is also known as the place of fog and mist. And the mountain range of Mhalunga is extremely beautiful. Starting towards Mhalunga, there is a temple of Goddess seen on a height at the left The temple and the surroundings are maintained by the villagers and are very neat and clean. Adjoining it is a pathway which goes to the top of Mhalunga. Mhalunga is divided into two parts. This is known as 'Chota' Mhalunga meaning small and another mountain beyond this towards the West is the 'Motha' Mhalunga meaning big. The top of Mhalunga is covered with grass and trees and spreads East-West. Towards the right are the mountains of varying heights grabbing attention. Amongst them are Kavanai, Budhya and Ishwara which can be easily identified. The entire surrounding is dressed in greenery. There are two ways to go on the Motha Mhalunga, a patch with rock climbing of around 35 feet or by a pathway besides it. From the top the view is breathtaking. To the West of Tringalwadi and the adjoining dam. Towards the South is Dhammagiri which looks completely green. To the North is Dhoriaand Budhya mountain and to the East are Mordhan and Kalsubai.
Do Not Miss
---
• Devi temple in Eastern khind of Mhalunga. • West side view of Tringalwadi fort. • North side view of Tringalwadi dam and village. • South-East side view of Igatpuri village. • South side view of Vipashana meditation centre.
Treks scheduled
Trek Date
No of people
Charges