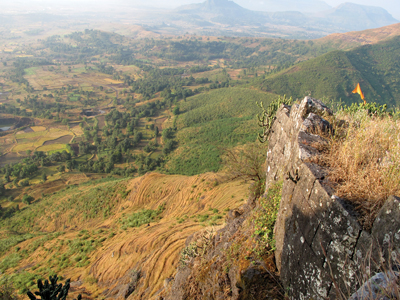 Kavnai Fort
---
Location Type
---
Hill Fort
Best season
---
All
Distance from nashik
---
40 K.M.
Trekking facts
---
Way:
Climbing from a pathway at the South of Kavnai village
Time To Climb :
2 hours / half day trek
Difficulty Level:
easy
Spread:
Medium
Water Availability:
Not suitable for drinking
Carry Along:
No special equipments
Guide:
Not necessary
How to reach
---
NASHIK to Kavnai Fort
Reach By Car:
Car route is convenient. Rent a car available at Nashik or Igatpuri.
Reach By Bus:
Take bus up to Igatpuri : From Igatpuri catch bus for Vaitarna : get down at Waki junction.
Reach By Train:
Train available up to Igatpuri. All trains taking nashik route stop at Igatpuri.
By Boat:
No boat route.
Facilities available

Accommodation

Garage

Medical aid

Near By Places

Petrol Pump

Souvenir
---
Location Details
---
Shivaji Maharaj included the fort in his kingdom (Swarajya) after his coronation ceremony. It is a belief that Shivaji Maharaj secretly visited the fort. Nearby religious place, Kapildharatirtha became holy after the great Saint Dnyaneshwar and Gajanan Maharaj stepped on its land. During Ramayana, Lord Hanuman was distracted by a devil named 'Kalnemi' while he was carrying the Mountain Dronagiri. Lord Hanuman defeated the devil on this mountain. Hence, it was named so. Kavnai brightens up the heritage and historic memories.
User Experience
---
The cool breeze over the massive fort makes you relish every moment spent here. It is a small fort with a temple and the clear waters of the lake dotting the landscape. The temple of the goddess Kamakshi refl ects in the clear waters and so do the clouds in the sky above. A Shivling with a Nandi in front, forms a roofless temple besides the lake. There is one cave which is at the right side on the top of the fort. There is one bastion on West side of the fort. One can see the Kalsubai range, Trimbak range, Tringalwadi and other forts from the top of the fort. The rays refl ected in the clear waters of upper Vaitarna dam, leaves one awestruck.
Do Not Miss
---
• Door at the entrance North side. • Small caves. • Kavnai devi temple. • Buruj and historical remains on South side. • Water tank. • Roofl ess temple of Shiva with Nandi in front. • Bastion on West side. • View of upper Vaitarnadam.
Add Trek Review
Nitinkumar Mundaware
---
Small trek with full thril
Nitinkumar Mundaware
---
Small trek with full thril
Gourang Ambulkar
---
Fantastic climb. Although the fort is not that tall, thw climb does offer a decent level of exercise. The pond on the top is full of fishes. Give them something to eat and see how they come swarming. The pond is excellent for swimming.
Treks scheduled
Trek Date
No of people
Charges