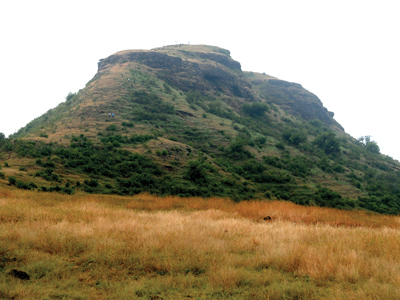 Talegaon hill
---
Location Type
---
Hill Fort
Best season
---
All
Distance from nashik
---
52 K.M.
Trekking facts
---
Way:
Straight from South-East side of Talewadi village to reach dam. From North-East side of the dam.
Time To Climb :
1 hours and 30 min /half day trek
Difficulty Level:
easy
Spread:
Medium
Water Availability:
Available at the base, not available on top
Carry Along:
No special equipments
Guide:
Not necessary
How to reach
---
NASHIK to Talegaon hill
Reach By Car:
Convenient by car. Rent a car facility available at Nashik.
Reach By Bus:
Buses available from Nashik till Igatpuri. Sharing vehicles/ taxis available ahead till Talewadi.
Reach By Train:
Trains availabe up to Igatpuri
By Boat:
No boat route.
Facilities available

Accommodation

Food

Garage

Medical aid

Near By Places

Petrol Pump

Souvenir
---
Location Details
---
Talegaon fort has not been a part of any historic event so far. There is no mention of the fort in the pages of history.
User Experience
---
This is a small hill, a little before you approach Igatpuri by road or rail. Igatpuri, famous for its cool weather is very pleasant to visit in any season. A very gentle descent on the ghats leads to the village Talewadi in the Konkan below. A river is to be crossed, and it may be fl ooded during heavy rains. There are no remains of the historic structures on the top of the hill and so the main attraction here is the view it offers. Talegaon is surrounded by the highest peaks of Sahyadri ranges. It overlooks the Kasara ghats which in itself is a beautiful view any place can offer. With its easy climb, it is an excellent outing for rainy or cool days. It is a sheer bliss for the nature lovers who look forward to revive, relax and rejuvenate. What makes the place more pleasant is the fresh cool breeze over the complete region. The view of the Talegaon dam on the West is soothing to the eye. As one climbs the top, the dam unfolds itself giving a visual treat to the eyes. Igatpuri village is also on the same side. And to the South - East is the great peak of Kalsubai.
Do Not Miss
---
• Talegaon dam view on West side. • West side view of Igatpuri. • South side view of Kasara Ghat. • South - East side view of Kalsubai range.
Treks scheduled
Trek Date
No of people
Charges