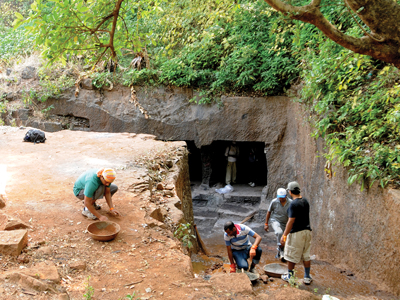 Mahuligad
---
Location Type
---
Hill Fort
Best season
---
All
Distance from nashik
---
101 K.M.
Trekking facts
---
Way:
From West side of Mahuli village
Time To Climb :
3 hours / 1 day trek (2 days preferably)
Difficulty Level:
medium
Spread:
Large
Water Availability:
Ample, East side water tank, water spring at the center up to February.
Carry Along:
No special equipments
Guide:
Take guide from Mahuli village
How to reach
---
NASHIK to Mahuligad
Reach By Car:
Convenient by car. Rent a car facility available at Nashik. Taxis, sharing vehicles available from Shahapur up to Mahuli.
Reach By Bus:
Buses available from Nashik vehicles/Taxis available ahead till Mahuli.
Reach By Train:
Trains availabe up to Aasangaon.
By Boat:
No boat route.
Facilities available

Accommodation

Food

Garage

Medical aid

Near By Places

Petrol Pump

Shelter

Souvenir
---
Location Details
---
Mahuligad is an important name in the history. In 1636 A.D. Shahaji Raje tried very hard to defend the Mughals. But at the end, he had to face a defeat in front of Adilshah's army and the Mughals came into rule. In 1656 A.D. Shivaji Maharaj, son of Shahaji Raje, took this fort from them. In treaty of Purandar, in 1665, Marathas lost these forts again. In Feb 1670, Shivaji Maharaj tried to conquer Mahuli, but failed. Thousands of Marathas were killed by Mughals. And then, on 16 June 1670, Moropant Pingle conquered the forts and Mahuli, Bhandargad and Palasgad became part of Swarajya.
User Experience
---
The mountain with many pinnacles is known as Mahuli. Mahuli is divided into three parts – Northern one is Palasgad, Mahuli in the middle and Bhandargad on the Southern end. Starting from the Eastern side of the fort, one has to climb a ladder to reach the water cisterns. At the top is the diversion, way to the left goes to Bhandargad. There are gatehouses on the right. A walk further leads one to the Kalyan Darwaza. The bamboo forest way from cisterns goes to Palasgad. From here, Alang, Madan, Kulang and Kalsubai are seen and on the East Harishchandragad, Aajobagad are seen. To the South-East Matheran range and to South-West, Tansa and Tungareshwar range can be seen. Further from ladder way, at left is the Mahadev temple. Next to it are the remnants of a palace. Opposite to it is a big lake. One must visit this place to see nature at its best.
Do Not Miss
---
• East side is water tank, water spring, rock cut steps, 3 caves, one of which is good for staying. • Buruj and big entrance door (hidden door way to Machigaon, chor darwaza) on the same side. • Tatbandi all around next to entrance gate and buruj. • Kibla wall (Namaz Gir) on North side. • Kalyan darwaza on South side. • Dense jungle at the top. • North side is Palasgad (chota Mahuli). • South side is Bhandargad (Chanderi). • Navra-Navri sulka on South side.
Treks scheduled
Trek Date
No of people
Charges