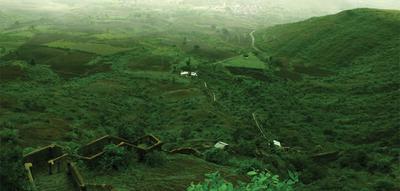 Madangad
---
Location Type
---
Forest Fort
Best season
---
All
Distance from nashik
---
65 K.M.
Trekking facts
---
Way:
Easy way from Indore gaon. Route also available from Aalangad and Aambevadi
Time To Climb :
3 hours/ 1 day trek
Difficulty Level:
Difficult
Spread:
Large
Water Availability:
Ample, water tanks on top of the fort
Carry Along:
Specialized trekking equipments required
Guide:
Available in Aambevadi. It is necessary
How to reach
---
NASHIK to Madangad
Reach By Car:
Rent a car available at Nashik and Ghoti
Reach By Bus:
Buses available from Nashik till Ghoti. Bus is available ahead to Ambewadi at 6 am. Ambewadi is 32 km away from Ghoti.
Reach By Train:
Trains availabe upto Igatpuri or Kasara.Reach Ambevadi by Igatpuri/Kasara-Ghoti-Pimpalnermor route
By Boat:
No boat route.
Facilities available

Accommodation

Food

Garage

Medical aid

Near By Places

Petrol Pump

Shelter

Souvenir
---
Location Details
---
Towards the West of Alang and towards the East of Kulang, stands a mountain which attracts one's eye with the complete flat plateau at the top. The fort is quite old and also impregnable. During the rule of the Marathas, in 1670 A.D., the forts Alang, Madan and Kulang were captured and included in the Swarajya by them. The Mughals repeatedly kept on trying to take over these forts. Finally in 1688, their efforts got paid by wining over the Kulang fort. Due to this, the forts Alang and Madan also came into their control. The way to the fort was destroyed later on by the British army using heir cannons.
User Experience
---
This is a difficult fortress to reach. Its square high massif can be recognized by a huge hole on its western top. In fact, the top is above the hole and standing up there, one gets a feeling of standing on a void. A steep rock face has to be climbed to reach the fort. The area of the fort is quite small as compared to Alang and Kulang, its adjoining forts. It is a broad plateau with a beautiful huge cave carved out of the rock, almost near the highest point. There are two water tanks on the top in which water is available only till February. The neighbouring Alang gives an exceptionally scenic view. One can see Alang, Kulang, Chota Kulang, Ratangad, Ajyagad, Katrabai, Dangya Pinnacle, Harihar and Trimbakeshwar. It is easier to descend by rappelling down. One must be experienced and careful whilst climbing this fortress. As the approach to the route contains rock patches, rock climbing equipment and good climbers are absolutely necessary.
Do Not Miss
---
• Water tanks on top. • Remains of rock cut steps (destroyed by the British). • Big caves on the top of the fort (can be used as shelter). • West side view of Kulangad, East side view of Alangad and Kalsubai range. • South side view of Bhandardaradam. • View of Samrad village on South-West side.
Treks scheduled
Trek Date
No of people
Charges