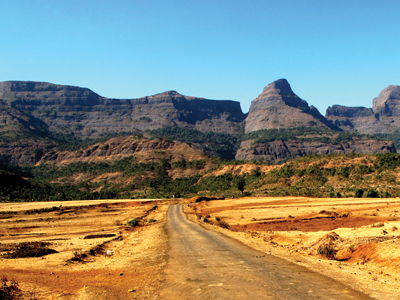 Kulangad
---
Location Type
---
Forest Fort
Best season
---
All
Distance from nashik
---
65 K.M.
Trekking facts
---
Way:
First East and then South from Ambewadi
Time To Climb :
3 hours from ambewadi / full day trek
Difficulty Level:
Difficult
Spread:
Large
Water Availability:
Ample
Carry Along:
No special equipments
Guide:
Available at Ambewadi, it is a must
How to reach
---
NASHIK to Kulangad
Reach By Car:
Rent a car available at Nashik and Ghoti.
Reach By Bus:
Bus facility available from Ghoti to Ambevadi - distance - 32 km - bus available at 6 a.m. from Ghoti.
Reach By Train:
Reach Kasara or Igatpuri station and then Ambevadi by the Igatpuri / Kasara - Ghoti - Pimpalnermor route.
By Boat:
No boat route.
Facilities available

Accommodation

Garage

Medical aid

Near By Places

Petrol Pump

Shelter

Souvenir
---
Location Details
---
Seeing the construction and other features, one gets a feel that the place must be in use since the historic times. No relevant data is available in the pages of history. In 1760, Kulang was conquered by the Peshwas from the Mughals. After 1818, the Britishers included Kulang into their kingdom with the help of their ammunitions. That was the last British-Maratha war here. Colonel Mc Dowel destroyed the steps by using their ammunitions.
User Experience
---
Kulang, Madan and Alang are adjoining peaks and the most prominent among them is Kulang. Kulang offers the highest climb from its base to the top in the Sahyadris. One gets to see some wonderfully carved steps in the rock further up in the climb, with a steep wall of rock on one side and a deep valley on the other side. The spread at the top is large. The breath taking views of Sahyadris and steep trekking surfaces can be experienced here. It is a mountain which provides a good shelter for the trekkers. The prosperity of the Sahyadris seen from the top leaves one spellbound. Standing at the edge of the ghats, it commands a fabulous view all around and the tough climb is amply rewarded by a most fascinating sunset.
Do Not Miss
---
• Left side Water tank. • Right side caves. • West side view of Kulangwadi and Dam. • Carved out steps to reach the top.
Treks scheduled
Trek Date
No of people
Charges