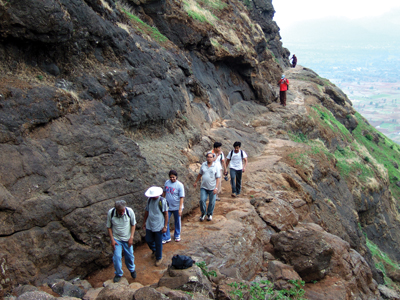 Mordhan fort
---
Location Type
---
Hill Fort
Best season
---
All
Distance from nashik
---
44 K.M.
Trekking facts
---
Way:
1) Towards the South from Khairgaon & then climb towards the East. 2) From Pimpalgaonmor, on the route of Bhandardara comes a settlement at around 11 km. A steep climb towards the West of the settlement
Time To Climb :
2 hours/half day trek
Difficulty Level:
easy
Spread:
Large
Water Availability:
Not available at the fort
Carry Along:
No special equipments
Guide:
Available at Khairgaon, not necessary
How to reach
---
NASHIK to Mordhan fort
Reach By Car:
Private vehicles are preferable. Rent a car facility available at Nashik, Ghoti, Igatpuri. Vehicles on sharing also available.
Reach By Bus:
Buses available from Nashik till Ghoti. Change bus from there.
Reach By Train:
Trains available up to Igatpuri.
By Boat:
No boat route.
Facilities available

Food

Garage

Medical aid

Near By Places

Petrol Pump

Souvenir
---
Location Details
---
Along the forts of the region of the highest peak of Maharashtra, Kalsubai, are the forts which are the mile stones, who witnessed the history of this region. Mordhan is one of them. Mordhan has not been a spectator of any major events in the history. In 1670:71 A.D., after conquering the Tringalwadi fort at the west, Chhatrapati Shivaji Maharaj also conquered Mordhan. Then in 1688 A.D., history has a record that the Mughals surrounded the fort. This fort might have been used to keep a watch on the surrounding region and neighboring forts.
User Experience
---
The most important feature of Mordhan is the gigantic North-South spread it has. The rhythmic flow of the river Darna can be beautifully observed and felt from the fort. The main square of the base village has a temple of Lord Hanuman. The structure of the fort is completely dilapidated. But, the view Mordhan offers all around makes one happy and contended. This fort of the Kalsubai range does not actually reflect itself as a fort since there is no fortification or bastions, no gateways or water tanks. There is no visible feature which could make this fort unique. But still, it's a popular fort for the trekkers. It is an easy and relaxing trek.
Do Not Miss
---
• Back water view of Darna dam on East side. • View of Kalsubai range on South side. • View of Ghoti village from West side. • Temple of Lord Hanuman.
Treks scheduled
Trek Date
No of people
Charges