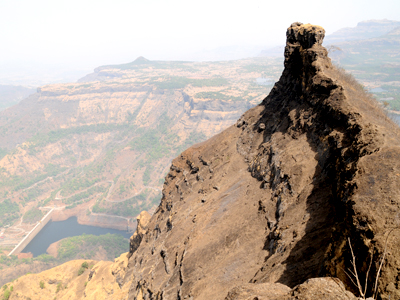 Shipnur hill
---
Location Type
---
Forest Fort
Best season
---
All
Distance from nashik
---
94 K.M.
Trekking facts
---
Way:
From East side of Samradwadi
Time To Climb :
3 hours/ full day trek
Difficulty Level:
medium
Spread:
Large
Water Availability:
Not available. One has to make arrangement for his own water. Water available up to Samradwadi.
Carry Along:
Climbing rope.
Guide:
Available at Samradwadi, it is a must.
How to reach
---
NASHIK to Shipnur hill
Reach By Car:
Convenient by car. Rent a car facility available at Nashik. Sharing vehicles, taxis available from Shendigaon.
Reach By Bus:
Buses available from Nashik till Igatpuri, Bhandardara and Ghoti. Change bus from there to Samradwadi.
Reach By Train:
Trains availabe up to Igatpuri.
By Boat:
No boat route.
Facilities available

Accommodation

Food

Garage

Medical aid

Near By Places

Petrol Pump

Souvenir
---
Location Details
---
There are certain mountain tops which are so difficult to access that reaching the top, one gets surprised as to why there is no fort here. Shipnur is one of them.
User Experience
---
Shipnur is not a fort, but a suitable place for trekking. Shipnur does not have a plateau at the top but a narrow ridge, might be one of the reasons that it is not built as a fort. Towards the North side of Shipnur is the Ghatghar Hydroelectric power project. Towards the South of Samradwadi lies the Sandhan valley which gives memorable view. Besides that is the Sita's cradle – Ajoba hillock. The view completes with the Ghanchakkar and the Pabargad hills. There is Ratangad on one side and the never ending Bhandardara dam towards the East. To the North is the Kalsubai range of Alang–Madan–Kulnag and to the South is the long range of Shipnur. Adjoining this is the Ghatghar water resource. This complete region is a retreat for the wanderers, trekkers and nature lovers. There is a complete maze of trees throughout the route. The early morning sunlight filtering in through the dense foliage adds a sense of liveliness.
Do Not Miss
---
• Way up to the peak is worth experiencing. • View Ghatghar dam on North side. • View of Alang, Madan and Kulang on North-East side. • View Ratangad fort on South-East side. • View South side Ajoba peak. • View of Landscape of Shahapur range.
Treks scheduled
Trek Date
No of people
Charges