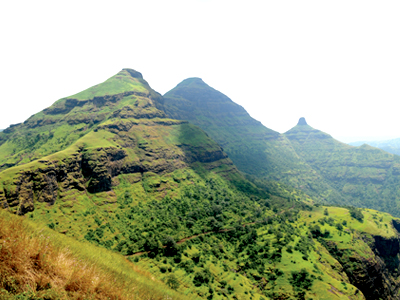 Mahankaal hill
---
Location Type
---
Hill Fort
Best season
---
All
Distance from nashik
---
64 K.M.
Trekking facts
---
Way:
1) From Bittanwadi take South route. 2) From Ekdara take North route
Time To Climb :
1 hour 30 mins / half day trek
Difficulty Level:
easy
Spread:
Medium
Water Availability:
Not available
Carry Along:
No special equipments
Guide:
Take one from Bittanwadi
How to reach
---
NASHIK to Mahankaal hill
Reach By Car:
Convenient by car. Rent a car facility available at Nashik.
Reach By Bus:
Buses available from Nashik till Taaked. Change bus from there for Bittanwadi ahead.
Reach By Train:
Trains availabe up to Nashik Road and Igatpuri.
By Boat:
No boat route.
Facilities available

Accommodation

Food

Garage

Medical aid

Near By Places

Petrol Pump

Souvenir
---
Location Details
---
Mahankaal has no reference in the pages of history as it did not witness any battle or was not a part of any movement in the past, being a hill and not a fort. During 1670 A.D. Chattrapati Shivaji Maharaj had rested in the nearby fort of Pattya and it was under the rule of Maratha kingdom. And so it can be assumed that being a nearby peak, in those times this fort would have been under the Maratha kingdom since the forts and peaks of the entire territory were under this rule.
User Experience
---
Mahankaal stands right next to Bittangad. The complete mountain is covered with a carpet of grass in the monsoons. The base village of Mahankaal and Bittangad is same and so is the approch from the same col. The base of Bittanwadi is a beautiful village to walk around. The entire region around is scarcely populated. It must be densely forested before. It is not advisable to visit Mahankaal in the summers as it gets very hot, making it diffcult to climb. On the top, windmills are installed which proves the velocity of cool winds blowing here. Mahankaal provides one with mesmerising view of the surroundings. To the North are seen Aundha and Pattya while to the West is the great peak of Kalsubai.
Do Not Miss
---
• View of Bitangad fort on North-West side. • North side view of Pattaya fort, Aundha fort and Taaked village. • West side view of Kalsubai range.
Treks scheduled
Trek Date
No of people
Charges