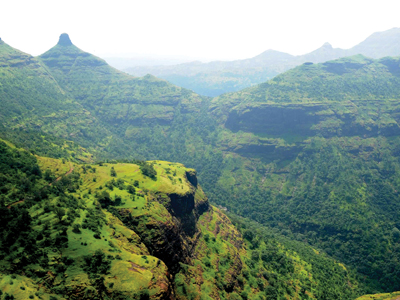 Bittangad
---
Location Type
---
Hill Fort
Best season
---
All
Distance from nashik
---
64 K.M.
Trekking facts
---
Way:
From Bittanwadi village take West route and move towards South to reach the fort
Time To Climb :
2 hours/ half day trek
Difficulty Level:
easy
Spread:
Medium
Water Availability:
Ample, cave on middle level, water tanks on top
Carry Along:
No special equipments
Guide:
Available from Bittanwadi village, not necessary
How to reach
---
NASHIK to Bittangad
Reach By Car:
Convenient by car. Rent a car facility available at Nashik.
Reach By Bus:
Buses available from Nashik.
Reach By Train:
Trains availabe up to Nashik Road and Igatpuri.
By Boat:
No boat route.
Facilities available

Accommodation

Food

Garage

Medical aid

Near By Places

Petrol Pump

Souvenir
---
Location Details
---
There is no information available about the history of this fort. During 1670 A.D. Chattrapati Shivaji Maharaj had rested in the nearby fort of Pattya. During those times, this fort would have been under the Maratha kingdom.
User Experience
---
Situated in a rather remote place is the small hill fort of Bittangad. Mahankala is also easily climbed from here. Bitangad lies to the North of Pattya and Odha fort and spreads right up to the Kalsubai. After seeing the fort one understands that it is really fortunate to be called so. In this straight tall range, the presence of Bittangad is not dominating at all. The region around is scarcely populated. It must be densely forested before. Currently this region is very much apt for trekking. Straight from Kalsubai towards the East, this fort attracts the viewer's eye. On the way to the fort lies the beautiful village of Bittawadi to the right and the tall standing Bittangad to the left The climb from the steps takes one to the cave on the top. Towards the right is a dry water tank. The entrance gateway of the fort is in complete ruins. Towards the South are the remains of the fort. One descends down feeling the serenity of the village below. It is a wonderful trek, which can be completed in an hour or two from the base camp.
Do Not Miss
---
• Water tanks on South side. • Caves on the way to fort. • Roofless Temple on top. • Plinths of old structure on South side. • View of Mahankal mountain on South-East side. • View of Kalsubai range on West side. • View of Pattaya fort on North side.
Add Trek Review
Gourang Ambulkar
---
Quick 2 hour trek. Must enjoy swimming in the Kund. This fort should be enjoyed in monsoons and winters. Forest department has constructed railings along the old rock cut steps. View around the fort is splendid.
Treks scheduled
Trek Date
No of people
Charges