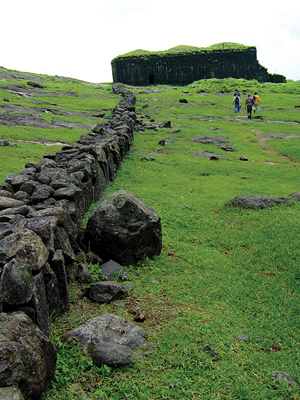 Pattya fort
---
Location Type
---
Hill Fort
Best season
---
All
Distance from nashik
---
75 K.M.
Trekking facts
---
Way:
From pattewadi take West route
Time To Climb :
1 hour 30 min / full day trek
Difficulty Level:
easy
Spread:
Medium
Water Availability:
Ample
Carry Along:
No special equipments
Guide:
Available at Pattewadi
How to reach
---
NASHIK to Pattya fort
Reach By Car:
Convenient by car. Rent a car facility available from Nashik, Ghoti,Sinnar
Reach By Bus:
Available from Nashik, Sinnar, Ghoti
Reach By Train:
Trains available up to Nashik Road and Igatpuri
By Boat:
No boat route.
Facilities available

Accommodation

Garage

Near By Places

Petrol Pump

Shelter

Souvenir
---
Location Details
---
This fort gained importance due to the arrival of Chhatrapati Shivaji Maharaj here. When Shivaji Maharaj was returning from Jalna village, 22 November 1679 the Mughal Sardar, Ranmast Khan challenged him with his army. The great war of the Marathas and the Mughals took place at this very place for almost 3 days. The warrior Sindoji Nimbalkar showed immense courage during this war. After the war, Shivaji Maharaj rested with his army at the Pattya fort. And then he named the fort as Vishramgarh. This indicates that Pattaya was under Swaraj during Shivaji Maharaj's reign. Then in 1688 A.D. during Sambhaji Maharaj's reign the Mughals conquered this fort from the Marathas.
User Experience
---
To the East of Kalsubai runs a mountain range having hills like Mahankaal, Bitangad and towards the East is Aundha. To the South of this lies Pattya fort. The base, Pattewadi is a small village with 20-22 Adivasi families. To the West of this lies Pattya fort. A historic canon is seen at the base. There is a small temple of Lord Hanuman with beautiful stone carved statue. Climbing the stone steps, one reaches the temple of Goddess Pattya and two water tanks alongside. The gateway called Delhi darwaza stands strong to welcome the visitors. One reaches the top within 20 minutes from here. The very first thing visible on the top is the Ambarkhana, a structure built in stone. This domed structure is built in three levels due to the contoured plateau. This fort has it all, underground water tanks, fortification, basions and a cave towards the North. Aundha fort is clearly visible from Pattya.
Do Not Miss
---
• Ambarkhana (Historical monument). • Darukhana (Storage of weapons). • Buruj on North side. • Tatbandi on South. • Water tanks at different levels. • Pattaie devi temple. • Monumental door on East side. • Caves.
Treks scheduled
Trek Date
No of people
Charges