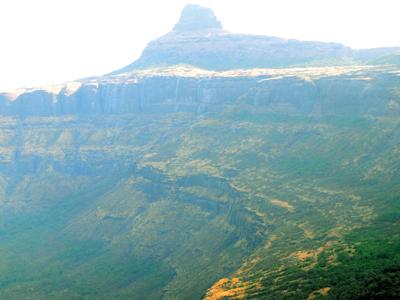 Aundha fort
---
Location Type
---
Hill Fort
Best season
---
All
Distance from nashik
---
70 K.M.
Trekking facts
---
Way:
1. From Ninavi or Girwadi. 2. From Pattya fort. 3. From Sinnar, towards Tirde village
Time To Climb :
1 hour 30 mins / Half day trek
Difficulty Level:
easy
Spread:
Large
Water Availability:
Yes on top of the fort
Carry Along:
Climbing rope
Guide:
Available at the village
How to reach
---
NASHIK to Aundha fort
Reach By Car:
Convenient by car. Rent a car from Nashik, Igatpuri, Ghoti and Sinnar.
Reach By Bus:
Buses available from Nashik, Igatpuri, Ghoti and Sinnar.
Reach By Train:
Train available up to Igatpuri.
By Boat:
No boat route.
Facilities available

Accommodation

Garage

Medical aid

Near By Places

Petrol Pump

Souvenir
---
Location Details
---
In 1671 A.D., when Shivaji Maharaj was returning from Jalna with his army, a Mughal Sardar Ranmast Khan challenged him. The battle went on for three days. The Maratha Sardar, Sindoji Nimbalkar fought so bravely that the Mughals had to accept a defeat. In those times, Aundha and Pattya fort of this region should have been under the Swarajya because it is said that after the victorious battle Shivaji Maharaj rested at the Pattya fort. During Sambhaji Maharaj's rule, a Mughal Sardar named Matbar Khan surrounded the fort from all sides and in 1689 A.D., it became a Mughal property.This fort might be used as a watch tower.
User Experience
---
The fort of Aundha stands stiff in the Kalsubai range at the East end. The needle like form itself highlights the fort making it easily visible and recognizable. The most suitable time to visit this place is after the rains, when the complete patch turns into a fresh green sheet spreading beyond one's vision. The exotic view from the fort leaves one speechless. The plateau at the top is very small. All the richness of this fort lies in the caves, water tanks and the remains of the historical fort. The climb to this fort is difficult without the climbing equipments and techniques as the ancient steps were destroyed by the British. The Pattya fort towards the South and the Chennagiri-Mhasoba Mountain towards the East draws attention. It is a very good trek for a family to relax by exploring nature's secrets.
Do Not Miss
---
• Carved water tanks in caves. • View of Pattya fort from South. • View of Mhasoba peak on East side. • Needle like head (Nedhe) on top. • Caves on top.
Treks scheduled
Trek Date
No of people
Charges