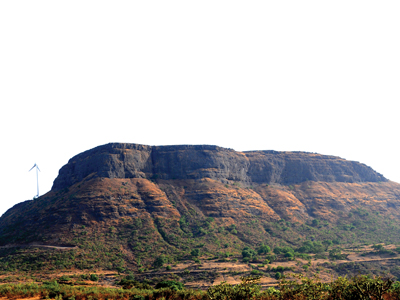 Mhasoba-chennagiri hill
---
Location Type
---
Hill Fort
Best season
---
All
Distance from nashik
---
70 K.M.
Trekking facts
---
Way:
Easy way from East side of Aunda fort in Tirade village. Or on the way from Sonambe village to Aundhewadi
Time To Climb :
1 hours / half day trek ( Aundha fort and Cheenagiri – Mhasoba can be covered in 1 day trek)
Difficulty Level:
easy
Spread:
Medium
Water Availability:
Not available
Carry Along:
No special equipments
Guide:
Available at the base village
How to reach
---
NASHIK to Mhasoba-chennagiri hill
Reach By Car:
Convenient by car. Rent a car facility available at Nashik. Sharing vehicles, taxis available from Taaked.
Reach By Bus:
Buses available from Nashik to Sinnar or Taaked and from there to different villages mentioned above.
Reach By Train:
Trains availabe up to Nashik Road.
By Boat:
No boat route.
Facilities available

Accommodation

Food

Garage

Medical aid

Near By Places

Petrol Pump

Shelter

Souvenir
---
Location Details
---
Chennagiri-Mhasoba has not witnessed any historic event and so is not rich in the historic value.
User Experience
---
Chennagiri-Mhasoba is not a fort. On the top is a temple of Mhasoba. To the West lies the Aundha fort and to the South, Pattya which was blessed with Chattrapati Shivaji Maharaj's presence. It does not have a historic significance but a religious one. Kalsubai range which runs to the East, goes straight till the Aad fort. Along with Bittangad, Mahankaal, Aundha stands Chennagiri-Mhasoba. The complete range of Kalsubai fills one with anxiety and excitement. The difficulty level of these forts goes on decreasing as one reaches Chennagiri-Mhasoba. Even though it is not a fort, it is a very good option for the trekkers. The pathway is very distinct and clear. It takes half an hour to reach the top. The cool breeze makes one want to spend maximum time at this place. The roofless temple of Mhasoba is right at the centre of the plateau. This place is flooded with the devotees every year during the festival. There are also devotees who visit Chennagiri throughout the year. The village seen at the foothills from the South end is Tirdegaon. This region is dry with the scorching heat in the summers and so is preferred to be visited after the rains.
Do Not Miss
---
• Open to sky Mhasoba temple on top (roofless). • West side view of Aundha fort. • South-West side view of Pattya fort. • East side view of Aad fort. • South side view of Tiradegaon.
Treks scheduled
Trek Date
No of people
Charges