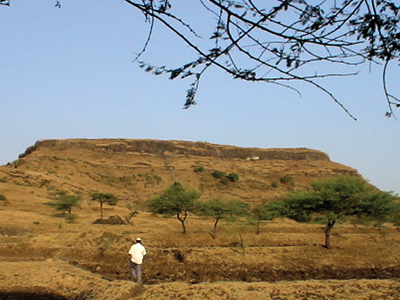 Aad fort
---
Location Type
---
Hill Fort
Best season
---
All
Distance from nashik
---
56 K.M.
Trekking facts
---
Way:
Towards the West from Aadwadi
Time To Climb :
1 hour/ half day trek
Difficulty Level:
easy
Spread:
Medium
Water Availability:
Not available
Carry Along:
No special equipments
Guide:
Available at Aadwadi
How to reach
---
NASHIK to Aad fort
Reach By Car:
Convenient by car. Rent a car facility available at Nashik. Sharing vehicles available from Sinnar up to Aadwadi.
Reach By Bus:
Buses and tourist vehicles availablefrom Nashik till Sinnar, from there ahead up to Aadwadi.
Reach By Train:
Trains availabe up to Nashik Road.
By Boat:
No boat route.
Facilities available

Accommodation

Food

Garage

Medical aid

Near By Places

Petrol Pump

Souvenir
---
Location Details
---
Aad was under the Swarajya during Shivaji Maharaj's reign. Shivaji Maharaj bravely fought for three days with the Mughal army on his return journey from Jalana and the Marathas got the victory. After that he rested in Pattya fort which lies to the West of Aad. This states that the fort was under his rule around 1670. Then during Sambhaji Maharaj's reign, Shivaji Maharaj's son, Matabar Khan surrounded the entire region and Aad Fort soon became a Mughal property.
User Experience
---
One has to walk till the foothills of the Aad Fort from the base village of Aadwadi which takes almost half an hour. There is temple of Lord Hanuman towards the west. Adjoining this is the way to climb the fort. Aad stands tall showing its vertical stone face towards the North-West. As one proceeds towards Bittangad, Pattya, Aundha and Aad of the Kalsubai range, the trek becomes easy. Looking at the fort from the base, a white patch is visible from the base which seems the cave. Keeping that as the goal, one can start towards the top. In this cave, is a statue of Goddess Jagdamba. There is a water tank outside the cave which is almost buried into the ground. Going towards the North, climbing a few steps one comes to the plateau at the top. There are around 15 tanks on this fort. To the far North is seen Dubergad, and to the West are the Aundha and Chennagiri-Mhasoba.
Do Not Miss
---
• Hanuman temple on East side on the base. • Water tank on North side. • Plinths and platforms of old historical structures. • East side view of aadwadi. • West side view of Aundha fort. • North side view of Sonambe and Konembe villages.
Treks scheduled
Trek Date
No of people
Charges