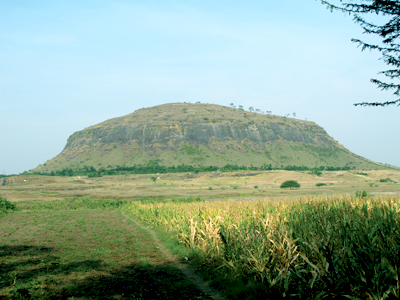 Duberagad
---
Location Type
---
Hill Fort
Best season
---
All
Distance from nashik
---
34 K.M.
Trekking facts
---
Way:
Take West route from Dubera village
Time To Climb :
1 hours / half day trek
Difficulty Level:
easy
Spread:
Small
Water Availability:
Not available, one has to make arrangement from the village
Carry Along:
No special equipments
Guide:
Available at Dubera village. Not necessary
How to reach
---
NASHIK to Duberagad
Reach By Car:
Convenient by car. Rent a car facility available at Nashik. Sharing vehicles available from Sinnar to Dubera.
Reach By Bus:
Buses available from Nashik till Sinnar. Change bus from there to Dubera.
Reach By Train:
Trains availabe up to Nashik Road.
By Boat:
No boat route.
Facilities available

Accommodation

Food

Garage

Medical aid

Near By Places

Petrol Pump

Shelter

Souvenir
---
Location Details
---
There is no reference of Duberagad in the pages of history. But the villagers and trekkers address this as gad, meaning fort. Jahagirdar Barve of Duberagad were related to the Peshwas. During the reign of the Peshwas the trade of this region was handed over to the Jahagirdar Barve by the Peshwas. However during the decline of the Peshwas, these rights were no more with the Jahagirdars.
User Experience
---
While going to Duberagad, one has to reach Sinnar from Nashik. To the North of Sinnar is the temple of Gondeshwar built in the Hemadpanti style. The temple is rich in heritage and architecture. Then towards the South of Sinnar is the way to Duberagad. Dubergaon was formed along the river banks of Dhoki over a period of time. There is a small house built in rock along the river banks which marks the heritage of the place. Earlier Dubergaon was towards the South-West of the fort, but as time passed it shifted from its original location. There are no forts around Duberagad. There are no signs of fortifications, bastions, remains of historic structures or rock cut caves. The water tanks and the remains of the historic structure do add a value to the fort due to which addressing it as a fort does not seem wrong. There is an East facing temple of Goddess Saptashrungi on the top. The devotees are flooded in this region during the festive seasons. There are staircases added to climb up to the temple of Saptashrungi.
Do Not Miss
---
• East side is Saptashrungi Devi temple. • View of Dubera village on East side. • View of Aad Fort on South side. • View of Aundha fort on South-West side. • North side view of Sinnar town. • West side view of infinite agricultural fields.
Treks scheduled
Trek Date
No of people
Charges