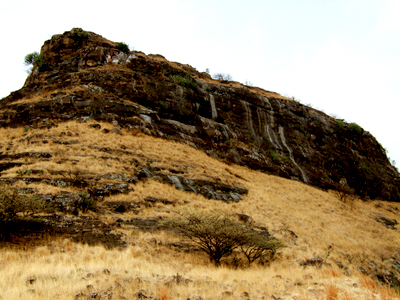 Songad
---
Location Type
---
Hill Fort
Best season
---
All
Distance from nashik
---
66 K.M.
Trekking facts
---
Way:
A climb towards the mountain from the main road of Sonewadi
Time To Climb :
2 hours/ half day trek
Difficulty Level:
easy
Spread:
Small
Water Availability:
Water tank near Khandoba temple on top
Carry Along:
No special equipments
Guide:
Available at Sonewadi
How to reach
---
NASHIK to Songad
Reach By Car:
Convenient by car. Rent a car facility available at Nashik. Sharing vehicles from Sinnar.
Reach By Bus:
Buses available from Nashik till Sinnar and buses available ahead up to Sonewadi.
Reach By Train:
Trains availabe up to Nashik Road.
By Boat:
No boat route.
Facilities available

Accommodation

Food

Garage

Medical aid

Near By Places

Petrol Pump

Shelter

Souvenir
---
Location Details
---
Songad was conquered by the Mughals from the Nizams. In 1682 A. D., the Marathas tried to take over this fort but were unsuccessful. Tasting the benefits of the victory, the Mughals then conquered the fort of Trimbak, Tringalwadi and many others in the region. The Mughal army was at its best. But after the death of Aurangzeb, the Mughul foundation became weak and that was the time when the Marathas rightly attacked back. They won all the forts of the Mughal dynasty and Songad was one of them. It soon became a part of Swarajya.
User Experience
---
This is the last fort of the Aundha : Pattya range. It is a fort of medium grade where one has an easy climb. After a climb of half an hour, one can find steps for the further ascend. There are two caves in the way which have survived across the centuries. The mountain has a temple of Bhairoba at the top. A yatra is held every year which brings along the devotees of Bhairoba. There are no remains of the fort here. Reaching the top, one sees the Mahakumbh River at the North, Bhojpur water body at the North – East, Baleshwar Mountain at the South – West, and Devthan dam at the South. A small pathway from the top of the hillock towards the North leads one to the foothills. The same pathway takes one to Parvatgad after revolving around Songad. Both these places can be seen in one day.
Do Not Miss
---
• Khandoba temple on top. • West side view of Parvatgad fort. • North side view of Sonewadi village. • South side view of Akole range. • View Mahakumbh River at the North. • View of Bhojpur water body at the North–East. • View Baleshwar Mountain at the South–West. • View of Devthan dam at the South.
Treks scheduled
Trek Date
No of people
Charges