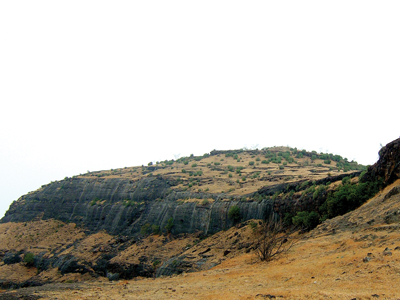 Parvatgad
---
Location Type
---
Hill Fort
Best season
---
All
Distance from nashik
---
66 K.M.
Trekking facts
---
Way:
A climb towards the South from the foothill in front of Maruti Temple
Time To Climb :
1 hour 30 min/ half day trek
Difficulty Level:
easy
Spread:
Medium
Water Availability:
Not available
Carry Along:
No special equipments
Guide:
Available at Sonewadi
How to reach
---
NASHIK to Parvatgad
Reach By Car:
Convenient by car. Rent a car facility available at Nashik. Sharing vehicles from Nashik and Sinnar.
Reach By Bus:
Buses available from Nashik till Sinnar. Change bus from there for Sonewadi.
Reach By Train:
Trains availabe up to Nashik Road.
By Boat:
No boat route.
Facilities available

Accommodation

Food

Garage

Medical aid

Near By Places

Petrol Pump

Shelter

Souvenir
---
Location Details
---
The twin forts of Parvatgad and Songad are along the border of Sinnar and Akole. These forts have not witnessed any battle or event in the past.The complete region has only these two forts along with small hills. Parvatgad might have been used to keep a watch on the activities happening in the surrounding region.
User Experience
---
There are no remains of forts seen at Parvatgad. It is the last fort on the range that runs to the East of Kalsubai. On the top are the sparse remains of the built structures and a lake. The spread at the top is large. It resembles Dehergad from the South. After reaching the base village one can see the twin forts standing tall together. The fort at the East is Songad and the one at the West is Parvatgad. The region is sparsely covered with trees. The forest department has taken an initiative to develop it. The climb is slippery but very easy. Parvatgad on the South resembles Rajdher with its vertical rock faces. On the top, towards the West is a lake built in the historic times. Though the lake is covered with mud during the ages, its masonry edges can be clearly seen. Going ahead are two water tanks carved out of rocks. There are remains of the structures built centuries ago. The surrounding region can be peacefully viewed from the top. The view of Songad it offers is satisfying. Both Parvatgad and Songad can be done in a day's trek.
Do Not Miss
---
• Fortifi cation (Tatbandi) and bastion (buruj) on three side around the fort. • View of Songad on East side. • Lake on East side. • Historical remains of old structures. • Rock cut water tanks.
Treks scheduled
Trek Date
No of people
Charges