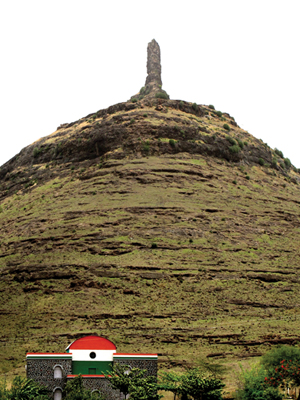 Mesna fort
---
Location Type
---
Hill Fort
Best season
---
All
Distance from nashik
---
85 K.M.
Trekking facts
---
Way:
From Mesankhede : West side
Time To Climb :
1 hour 30 mins/ full day trek
Difficulty Level:
easy
Spread:
Medium
Water Availability:
Water available is not potable.
Carry Along:
No special equipments
Guide:
Available in Mesankhede. It is necessary.
How to reach
---
NASHIK to Mesna fort
Reach By Car:
Convenient by car. Rent a car facility available at Nashik. Taxis and shearing vehicles available from Shingwe up to Mesankhede.
Reach By Bus:
Buses available from Nashik up to Shingwe. Change transportation from there to reach Mesankhede.
Reach By Train:
Trains available up to Nashik Road and Manmad.
By Boat:
No boat route.
Facilities available

Accommodation

Food

Garage

Medical aid

Near By Places

Petrol Pump

Shelter

Souvenir
---
Location Details
---
There is not much information about Mesna in the history of forts. This fort was under the Mughal kingdom during the rule of Chattrapati Shivaji Maharaj. This fort might have been used to keep an eye on the surrounding area. Mesna was under the rule of Chandwad region.
User Experience
---
Mesna lies in the East region of Chandwad on the Ajanta Satmala range. This fort has always been neglected in the past during the historical times as well as in the present. Since this fort lies in Chandwad region one can also visit the temple of Goddess Renuka which lies nearby. Towards the South of the fort are two valleys from which one has to start along the right valley to reach the plateau of Mesna on the top. One can reach the top very easily, without much climbing There are few water tanks on the top. The water tanks here are the historic wealth of the fort. To the East one can see the lush greens of Ankai-Tankai. To the right is the pinnacle of Habdi. The entire route to this fort is unforgettable. The beauty of this fort is at its best during monsoons and rains. The complete region transforms itself into a picturesque environs. This last fort of the Satmala ranges is a must to be added in the list of treks.
Do Not Miss
---
• West side view of Chandwad fort. • View of Ankai-Tankai on East side. • South side view of Hadbi-chi-shendi pinnacle. • Vast agricultural plains view on North side. • Peer Baba Mazar (tomb) on top.
Treks scheduled
Trek Date
No of people
Charges