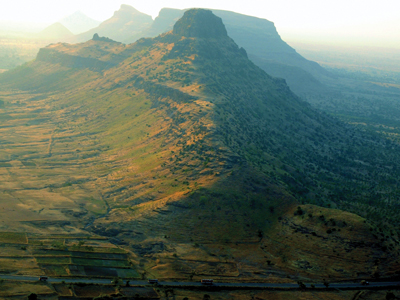 Gorakhgad
---
Location Type
---
Hill Fort
Best season
---
All
Distance from nashik
---
96 K.M.
Trekking facts
---
Way:
From the West of Ankai Station
Time To Climb :
2 hours / Half day trek
Difficulty Level:
easy
Spread:
Small
Water Availability:
Ample
Carry Along:
No special equipments
Guide:
Not needed
How to reach
---
NASHIK to Gorakhgad
Reach By Car:
Rent a car facility available from Nashik, Manmad and Chandwad.
Reach By Bus:
Buses available from Nashik, Manmad and Chandwad.
Reach By Train:
Convenient by train from Nashik. Reach Manmad station. Change transportation from there.
By Boat:
No boat route.
Facilities available

Accommodation

Garage

Medical aid

Near By Places

Petrol Pump

Shelter

Souvenir
---
Location Details
---
The fort got its name from Saint Gorakhnath, who performed his "Sadhana" in this place. And hence it is also known as Gorakhnath. It was strategically important during the reign of Shahaji Raje. However, no major battle is recorded to have taken place here. This hill fort was built to protect Ankai-Tankai hill forts in the East of this Gorakhgad.
User Experience
---
Gorakhgad is a small fort on the top of a hill protected by cliffs. It offers beautiful views at sunrise. The trek to Gorakhgad is not complete without reaching the top of the pinnacle which is very small in size. On the summit there is located small temple of Gorakhnath with a statue of Nandi in front and linga inside the temple. Two Hindu rock – cut cave temples known as Gorakhgad caves are seen here. Nature's grandeur can be appreciated with the magnificent view of trees leaning over the valley and the excellent sight of Ankai Tankai. There are in total fourteen cisterns on the fort. The rail line and the road ways are clearly and beautifully seen from the top. The Hedbi chi Shendi pinnacle stands towards the North-West as though inviting for another climbs. This region allows farmers to cultivate just one crop a year, during rainy season, other seasons being dry throughout. During the monsoon period the steep hill offers exotic jungle-covered mountain scenery with waterfalls sliding down along the steep walls of ancient fort.
Do Not Miss
---
• Hindu rock-cut cave temples. • Temple of Gorakhnath on top. • Fourteen water tanks on top. • North-West view of Hedbi ki Shendi pinnacle.
Treks scheduled
Trek Date
No of people
Charges