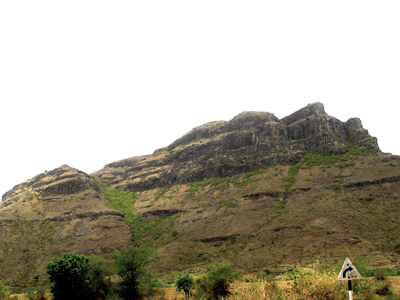 Katra fort
---
Location Type
---
Hill Fort
Best season
---
All
Distance from nashik
---
101 K.M.
Trekking facts
---
Way:
Take South route from katarwadi to reach the fort. Easy route
Time To Climb :
1 hour/ half day trek
Difficulty Level:
easy
Spread:
Medium
Water Availability:
Ample, water tank on top
Carry Along:
No special equipments
Guide:
Available in Katarwadi. It is necessary
How to reach
---
NASHIK to Katra fort
Reach By Car:
Convenient by car. Rent a car facility available at Nashik. Sharing vehicles and taxis available from Manmad up to the Katarwadi.
Reach By Bus:
Buses available from Nashik up to Manmad. Change bus from there up to Katarwadi.
Reach By Train:
Trains availabe up to Nashik Road and Manmad.
By Boat:
No boat route.
Facilities available

Accommodation

Food

Garage

Medical aid

Near By Places

Petrol Pump

Souvenir
---
Location Details
---
Seeing the style of the construction, it may be assumed that there might have been the rule of Mughals here. Katra was used to keep a watch on the activities around the twin fort of Ankai–Tankai. It was used for the protection of the forts.
User Experience
---
There are not much forts in this region and so the number of people visiting Katra is also less. Due to less rainfall, the farmlands around are not so prosperous. Katra is to the East of Ankai fort. The way to the base village, Katarwadi is quite difficult to find. One has to have a complete idea of the route. The surroundings of the village are very pleasing. The pathway is very slippery but the climb is quite easy. It takes half an hour to reach the fort top. The vegetation is very sparse and one has to search for the trees to rest in the shadows along the way. The entrance gateway of 6 feet width is in complete ruins. Apart from the water tanks and caves on the top, there are not much of historic remains to the fort here. The caves carved out of the rock are big enough and were used to store the grains or even the army troops. To the East are the fort of Gorakhgad and the twin fort of Ankai–Tankai. To the North is the Mesna fort. To the North-East is the Hedbi ki Shendi pinnacle standing tall.
Do Not Miss
---
• 6 ft. high entrance door. • South and West side tatbandi. • Caves. • West side view of Ankai-Tankai fort. • View of Circumambulating rail route on South side. • View of Hedbi chi Shendi on West side.
Add Trek Review
Vinod pawar
---
Detailed information.... Thanks...
Treks scheduled
Trek Date
No of people
Charges