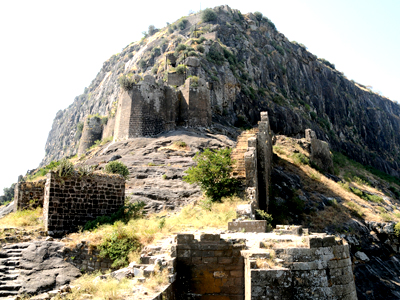 Ankai fort
---
Location Type
---
Hill Fort
Best season
---
All
Distance from nashik
---
97 K.M.
Trekking facts
---
Way:
Take North route from Ankai village to reach the fort.
Time To Climb :
1 hours / full day trek.
Difficulty Level:
easy
Spread:
Medium
Water Availability:
Ample, available at Ashram on top.
Carry Along:
No special equipments.
Guide:
Available at Ankai village. Not necessary.
How to reach
---
NASHIK to Ankai fort
Reach By Car:
Convenient by car. Rent a car facility available at Nashik. Sharing vehicles and taxis available from Manmad.
Reach By Bus:
Buses available from Nashik to Manmad. Change bus from thereo the Ankai village (less frequency).
Reach By Train:
Trains availabe up to Manmad.
By Boat:
No boat route.
Facilities available

Accommodation

Food

Garage

Medical aid

Near By Places

Petrol Pump

Shelter

Souvenir
---
Location Details
---
Ankai was one of the most important and strongest forts in the Nashik–Khandesh region. In 1636 A.D., the Mughal Emperor Shah Jahan captured it from the Nizams. This fort remained with the Mughals even during the rule of Shivaji Maharaj. The last time when the fort was captured, was in 5th April 1818 when the British took them without bloodshed. This was great luck for British as the fort had large amount of ammunition and neighbouring forts were ready to take up rebellion if Ankai would start it.
User Experience
---
Ankai-Tankai command a wide view of the Khandesh and Godavari valleys. The rock is completely eroded on all the sides and presents perfectly perpendicular walls on all its four faces. There is a big temple, a mazar and the Agastya tank. While ascending Ankai fort one should pass through 7 rings of fortifications, passing by one Hindu rock-cut temple. Especially hard for the enemy, was the final ascent - some 60 - 70 stone steps which was broad enough just for one man to pass. Behind the last gateway there stands remnants of a curious domed building - it is said that in earlier times this was a treasure chamber. The top of the hill earlier had many buildings; nowadays only ruins of some remain. The plateau contains up to 15 m deep rock-cut granaries, 7 water tanks. In the middle part of Ankai there is square water tank with an ancient sculpture in the middle. At the base of the hill on Eastern side of plateau there are located Hindu rock-cut shrines with hermits living here up to this day.
Do Not Miss
---
• Entrance buruj and a door way. • Tatbandi on both sides, and carved route out of rock to reach top. • Caves on East side. • Ashram and temple on North side ( carved form rock). • West side Palace. • View of Gorakhgad and Hedbi chi Shendi (thums up sulka) from the palace. • Beautiful view of railway route between Gorakhgad and Ankai fort. • View of Tankai fort form the rock cut ashram and temple.
Treks scheduled
Trek Date
No of people
Charges