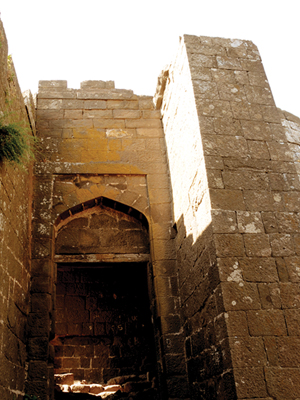 Tankai fort
---
Location Type
---
Hill Fort
Best season
---
All
Distance from nashik
---
95 K.M.
Trekking facts
---
Way:
From North side of Ankaiwadi village
Time To Climb :
1 hour/ half day trek, can be combined with Ankai fort
Difficulty Level:
easy
Spread:
Large
Water Availability:
Ample, water tank at the center near shiv temple
Carry Along:
No special equipments.
Guide:
Available in Ankai village. Not necessary
How to reach
---
NASHIK to Tankai fort
Reach By Car:
Convenient by car. Rent a car facility available at Nashik. Sharing vehicles and taxis available from Manmad.
Reach By Bus:
Buses available from Nashik to Manmad. Change bus from Manmad to Ankai village (less frequency).
Reach By Train:
Trains available up to Manmad.
By Boat:
No boat route.
Facilities available

Accommodation

Food

Garage

Medical aid

Near By Places

Petrol Pump

Shelter

Souvenir
---
Location Details
---
Tankai - Ankai, the twin forts, were one of the most important and strongest forts in the Nashik–Khandesh region. In 1636 A.D., the Mughal Emperor Shah Jahan captured it from the Nizams. This fort remained with the Mughals even during the rule of Shivaji Maharaj. The last time when the fort was captured, was on 5th April 1818 when the British took them without bloodshed. This was great luck for British as the fort had large amount of ammunition and neighbouring forts were ready to take up rebellion if Tankai would start it. Most likely Tankai served as a huge storage facility of supplies for Ankai fort.
User Experience
---
Ascent to the plateau of Tankai hill leads through fortified wall with arched door. The plateau on the top of Tankai is more flat and lower than the top of Ankai. At the base of Tankai, there are located several years old Jain rock-cut temples. First one passes by the Tankai Jain Cave Temples and through arched entrance door then reach the saddle and have a choice to ascend either Tankai or Ankai via path of stone-cut steps. For most part of the year the area is grey and desert like but during the monsoon miraculous change happens - even the plateaus on top of both hills are covered with lush green grass with some low shrubs in some places. Grass covered plateau is windy; nowadays it is used for horse grazing. Here is no shelter, though plateau contains semicollapsed Shiva temple built of large stone blocks adorned with stone carving and a Nandi sitting in the front of the building and looking towards the shrine of Shiva. All four corners of plateau have traces of former fortifications; in the Eastern side are located remnants of well-built guard house.
Do Not Miss
---
• Praveshdwar (Entrance door) excellent architecture made in black stone. • Dargah on left side near pravesh dwar. • North side Shiv temple at the center of the fort made in Katal (black stone). • Water tank and small lake on the East side next to the temple. • Massive door on North-East side. • Massive buruj next to the door. • View of Gorakhgad and Hedbi chi Shendi (thums up sulka) on West side.
Treks scheduled
Trek Date
No of people
Charges