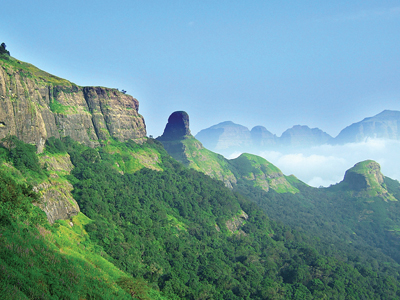 Ratangad
---
Location Type
---
Forest Fort
Best season
---
All
Distance from nashik
---
96 K.M.
Trekking facts
---
Way:
1) From Ratanwadi route to fort from South side. 2) From Samradwadi move towards East side reach Khutta peak move ahead to trambak darwaja reach the fort
Time To Climb :
1) From Ratanwadi 2 hours 30 mins 2) From Samradwadi 3 to 4 hours
Difficulty Level:
medium
Spread:
Large
Water Availability:
Ample near caves at East side and top of fort
Carry Along:
No special equipments
Guide:
Available at Ratanwadi or Samadrawadi. It is necessary
How to reach
---
NASHIK to Ratangad
Reach By Car:
Convenient by car. Rent a car facility available at Nashik. Sharing vehicles available from Shendigaon.
Reach By Bus:
Buses available from Nashik till Shendigaon.
Reach By Train:
Trains available up to Igatpuri.
By Boat:
From Shendigaon to Ratanwadi.
Facilities available

Accommodation

Food

Garage

Medical aid

Near By Places

Petrol Pump

Shelter

Souvenir
---
Location Details
---
Ratangad was the main fort of the region before British rule. The entire area was controlled from this fort. It was under shri Jauji, a koli sardar till A.D.1763. The British took over the fort in A.D. 1820 under captain Godard. It was taken over again by the original local sardar Govindraoji Mane after British decline.
User Experience
---
A journey through the lake with crystal clear water, blue firmament overhead and incredible panoramic views to reach Ratanwadi is a real treat. No Matter whether one has a private vehicle to reach Ratanwadi directly, this little ride through allayed lake is worth experiencing. Amidst the realm of nature the fort offers breathtaking views on all four sides from the top. Splendid Bhandardara dam (Wilson dam) - one of the oldest catchment area on the East, astonishing lush green draped Sandan valley with exhilarating knife-like peak on the west, while steep cliffs of Kamabai khind on South and mammoth hills of Alang- Madan-Kulang on North side.
Do Not Miss
---
• Ratnai devi temple. • Hanuman darwaja. • Ranicha huda buruj. • Buruj on South-East. • Kalyan darwaja on West side. • Water tank near kalyan darwaja. • Nedhe (needle head like puncture in rock) on top. • Trambak darwaja on North side. • View of surrounding landscape from top of nedhe. • View of bhandardara dam on East side. • Bansulka downwards on West side. • View of katrabai range and ajoba peak.
Treks scheduled
Trek Date
No of people
Charges