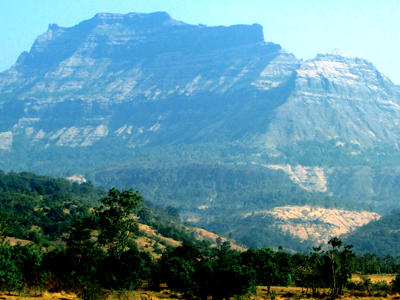 Aajoba hill
---
Location Type
---
Forest Fort
Best season
---
All
Distance from nashik
---
91 K.M.
Trekking facts
---
Way:
East route from Dehanegaon
Time To Climb :
5 to 6 hours/ 2 day trek
Difficulty Level:
Difficult
Spread:
Large
Water Availability:
Water available at Agasti Rishi Temple at middle level on West side
Carry Along:
Climbing rope
Guide:
Available at the village
How to reach
---
NASHIK to Aajoba hill
Reach By Car:
Rent a car facility available from Nashik. Taxis available up to Kasara.
Reach By Bus:
Buses available till Kasara. Buses and tourist vehicles available ahead.
Reach By Train:
Trains availabe up to Kasara.
By Boat:
No boat route.
Facilities available

Accommodation

Food

Garage

Medical aid

Near By Places

Petrol Pump

Shelter

Souvenir
---
Location Details
---
Ajoba is not a fort, but a place having historic and religious importance. Sita gave birth to her sons Luv and Kush here, when she was staying in Valmiki Rishi's ashram. Luv and Kush learned the art of using bow and arrow under Valmiki Rishi's guidance.
User Experience
---
A trek to Ajoba means a remarkably wonderful experience. One should proceed towards the East from Dehne village which is at the foothills. As one goes ahead, the route takes you through a thick dense canopy of trees which are pleasing in all the weather conditions. In an hour and a half, one reaches Valmik Rishi's Ashram which houses his Samadhi. It also has a Shiv Temple. A small water stream of pure water passes from through the dense foliage, crossing which, one can reach the Luv-Kush caves. The atmosphere here is completely mesmeric. In the cave there are the carved footprints of Luv and Kush. There is a single storey dharmashala (dormitory) constructed out of wood. A stay here gives great pleasure. The pinnacle at the top is called Sita's cradle (Sitecha Palana in marathi). Generally people prefer this place as one-day trek, especially in rainy season. A beautiful waterfall is formed in monsoon. After reaching the tip of the hillock, the horizon of ones happiness reaches far beyond the dreams.
Do Not Miss
---
• Valmiki Rishi Ashram and temple at middle level on West side. • Sitecha Palna back side of Valmiki Rishi Ashram on upper level. • East side view of Katrabai Khind Range. • North-East side view of Ratangad fort. • North side view of Sandan valley. • South side view of Kumbsheet valley.
Treks scheduled
Trek Date
No of people
Charges