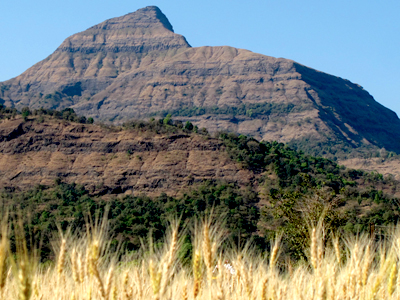 Gavaldev / Muda hill
---
Location Type
---
Forest Fort
Best season
---
All
Distance from nashik
---
78 K.M.
Trekking facts
---
Way:
From South side of Mutkhel village
Time To Climb :
4 hours / 1 day trek
Difficulty Level:
medium
Spread:
Large
Water Availability:
Water pond at the top on North side
Carry Along:
No special equipments
Guide:
Available at Mutkhel village. It is necessary
How to reach
---
NASHIK to Gavaldev / Muda hill
Reach By Car:
Convenient by car. Rent a car facility available at Nashik. Sharing vehicles available from Shendigaon up to Mutkhel village.
Reach By Bus:
Busses available from Nashik till Shendigaon and Rajur. Less in frequency.
Reach By Train:
Trains availabe up to Nashik Road and Igarpuri.
By Boat:
No boat route.
Facilities available

Accommodation

Food

Garage

Medical aid

Near By Places

Petrol Pump

Souvenir
---
Location Details
---
Muda has not fought ant battle, neither lost any. It has not been a part of any major historical event.
User Experience
---
Muda is not renowned as a fort. The view from the top of Muda is mesmerising. In the entire surrounding of Bhandardara, Muda is the tallest peak after Kalsubai. Walking from the Farmlands, Under the shadows of the trees also fills oneself with sheer joy. After walking for an hour on the right are seen Sindola and the rock walls of Ghanchakkar. After climbing for almost 2 and 1/2 hour the first plateau is reached and the topmost plateau of Muda still stands amidst the clouds. After sometime comes a dense forest of trees and the coolness shakes off the thoughts of returning back due to the scorching sun. To the right is seen the fort of Ratangad. So tall is the peak that all the surrounding forts of Ratangad, Ghanchakkar, all others look very small comparatively. Bhandardara dam is visible in the panorama of one's eye and standing behind it are the greatest peaks of Maharashtra, Alang-Madan-Kulang and the tallest peak of Kalsubai behind it. Malshej ghat range is also clearly visible from here. This landscape seems the best one has ever seen and the four hours of climbing seem fruitful.
Do Not Miss
---
• Patch of Forest just before reaching the top • Open to sky Temple on the top. • View of Ghanchakkar and Sindola mountain on East side. • West side view of Katrabai Khind, Ajoba peak. • North side view of Bhandardara dam, Alang, Madan and Kulang and Kalsubai range. • North -West view of Ratangad fort. • North -East view of Pabargad fort. • South-West view of Harishchandragad fort and Kaladgad fort.
Treks scheduled
Trek Date
No of people
Charges