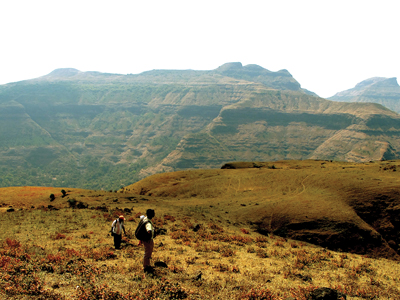 Sindola hill
---
Location Type
---
Hill Fort
Best season
---
All
Distance from nashik
---
78 K.M.
Trekking facts
---
Way:
From Mutkhel take South route, and from Shirpunje take North route to reach the fort
Time To Climb :
2 hours 30 mins/ 1 day trek
Difficulty Level:
medium
Spread:
Large
Water Availability:
Not available
Carry Along:
No special equipments
Guide:
Available in Mutkhel or Shirpunje village. It is necessary
How to reach
---
NASHIK to Sindola hill
Reach By Car:
Convenient by car Rent a car facility available at Nashik. Sharing vehicles available from Shendigaon up to Mutkhel village.
Reach By Bus:
Busses available from Nashik till Shendigaon and Rajur. Less in frequency.
Reach By Train:
Trains available up to Nashik Road, and Igatpuri.
By Boat:
No boat route.
Facilities available

Accommodation

Food

Garage

Medical aid

Near By Places

Petrol Pump

Shelter

Souvenir
---
Location Details
---
Sindola has not been a part of any victory or a defeat. It does not have much of significant history.
User Experience
---
Sindola is not a hill fort. But seeing the sky high top and the unforgettable views it gives, one feels the sheer joy of visiting this place. To the East are the Katra, Ajoba and Ratangad forts. To the South are Bhairavgad, Ghanchakkar. The Bhandardara dam is at the North and adding a backdrop to it is the Kalsubai peak. Alang- Madan-Kulang are seen here. The wat to the fort is full of trees in the beginning and then with the slippery pathways. In rainy season it becomes too slippery and this part to travel in wind becomes bery difficult. There is a small water body in the way where the water is potable. One has to climb up keeping Sindola at the right. The pathway is not so wide and needs utmost care. On one side is the wall of rock and on the other side is the deep valley. As one moves ahead, there are stones kept in the way in order to guide the path. After a while, the bastion to the right is visible. The Entrance gate has vanished but the ruins are visible. Seeing the fantastic location of this Sindola, one wonders why it is not a hill fort.
Do Not Miss
---
• Caves on North side. • View of Bhandardara dam on North side. • View of Pabargad on North-East side. • View of Ghanchakkar on South-West side and Bhairavgad on South side. • West side view of Katra Bai Peak and Ratangad fort. • View of Mutkhel village on North side and Shirpunje on East side.
Treks scheduled
Trek Date
No of people
Charges