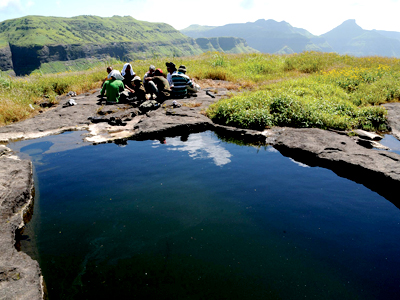 Pabargad
---
Location Type
---
Hill Fort
Best season
---
All
Distance from nashik
---
84 K.M.
Trekking facts
---
Way:
1) Take West route from Guhiraygaon 2) East side from Mutkhel village
Time To Climb :
2 hours 30 mins/1 day
Difficulty Level:
medium
Spread:
Medium
Water Availability:
Ample, water tanks on South side at the top of the fort
Carry Along:
Better to carry rope along
Guide:
Available at Guhiraygaon. It is necessary.
How to reach
---
NASHIK to Pabargad
Reach By Car:
Convenient by car. Rent a car facility available at Nashik. Sharing vehicles available from Bhandardara and Shendigaon.
Reach By Bus:
Buses available from Nashik till Bhandardara and Shendigaon.
Reach By Train:
Trains availabe up to Nashik Road and Igatpuri.
By Boat:
No boat route.
Facilities available

Accommodation

Food

Garage

Medical aid

Near By Places

Petrol Pump

Shelter

Souvenir
---
Location Details
---
In the earilier days, the Brahmins ruled this entire region. Later, Malik Ahmed Khan of the Nizam kingdom conquered the fort of Pabargad. In 1636 A.D., the Nizam rule started to decline and the Mughals took over the region. In 1670 A.D., Chhatrapati Shivaji Maharaj conquered Pabargad after a tough battle with the Mughals. The panorama pictures Ghanchakkar, Kamabai, Ajoba, Ratangad, Shipnur, Alang - Madan - Kulang, Kalsubai right till Odha, Pattya fort. One returns back from this place, capturing the beauty of nature in his eyes forever.
User Experience
---
To the South of the Bhandardaradam, lies Pabargad. To the East is a small village so distict in itself that one would defi nitely prefer a stay here. To the North-East of the village lies a part of the dam, the Randha fall which is a miracle in itself. After the rains, till November, the view of the Randha fall is simply unforgettable. The climb of Pabargad seems easy at the beginning but the diffi culty level goes on rising. There is a dense coverage of Karvi trees here. Walking towards the top of the hillock amidst the flowers and butterfl ies leaves an unforgettable experience in one's mind. The cool waters of Bhandardara refl ecting the entire mountain range is visible from here. Experiencing this is an achievement in itself.
Do Not Miss
---
• 5 - 6 water tanks on South side. • Open to sky Bhairav temple on top. • Before reaching rop two caves on right side (North side). • Water tanks near temple. • Complete view of Bhandardara dam on North side. • Alang Madang Kulang and Kalsubai peak on North side behind Bhandardara dam. • View of Ratangad fort on West side. • View of Sindola peak on South side. • View of Ghanchakkar and Katrabai range on South-West side.
Treks scheduled
Trek Date
No of people
Charges