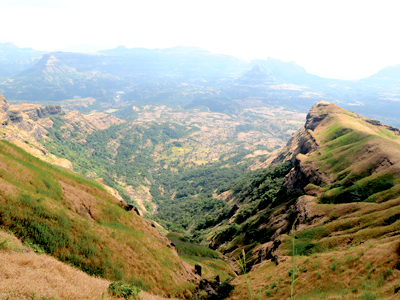 Ghanchakkar hill
---
Location Type
---
Hill Fort
Best season
---
All
Distance from nashik
---
112 K.M.
Trekking facts
---
Way:
From South side of Shirpunje village
Time To Climb :
3 hours/ full day trek
Difficulty Level:
medium
Spread:
Large
Water Availability:
Ample on East side only
Carry Along:
No special equipments
Guide:
Available at Shirpunje village. It is necessary
How to reach
---
NASHIK to Ghanchakkar hill
Reach By Car:
Convenient by car. Rent a car facility available at Nashik. Sharing vehicle from Rajur village
Reach By Bus:
Buses available from Nashik till Rajur. Change bus from there to Shirpunje.
Reach By Train:
Trains availabe up to Nashik Road or Igatpuri.
By Boat:
No boat route.
Facilities available

Accommodation

Food

Garage

Medical aid

Near By Places

Petrol Pump

Souvenir
---
Location Details
---
Ghanchakkar has not been an active member in the history of past ages. It has not witnessed any victory or defeat in the historic times. So there is no reference of this fort in the historical scripts or anywhere else. With number of ridges and sides, Ghanchakkar falls under the category of diffi cult forts. It resembles a maze and may be that is where it has derived its name from.
User Experience
---
It is said that this place is full of crystals. If seen carefully, one may also find some beautiful stones here. Ghanchakkar is not a hill fort. But it has gained importance due to its large spread. It has many pinnacles at the top so one can not estimate its spread. There is sparse vegetation but the view it presents at certain halts are quite serene due to its green landscape. Towards the North lies the mesmerizing waterfall of Bhandardara which makes the trip a complete worth. It would definitely be a scene to relish for a longer time. It has hills on three sides and in the centre is the clear water of the dam. This is the best view of Bhandardara any place can offer. Behind the dam is the great peak of Kalsubai along with the trio, Alang-Madan-Kulang. To the East is Bhairavgad, southeast is Harishchandragad and to the south is Malshej ghat. To the west are katra and Ratangad.
Do Not Miss
---
• View of Bhairavgad on East side. • South side Harishchandra gad, Kalad gad. • West side Katra bai khind, Gavlay peak. • North-East side Ratangad. • North side Bhandardara dam.
Treks scheduled
Trek Date
No of people
Charges