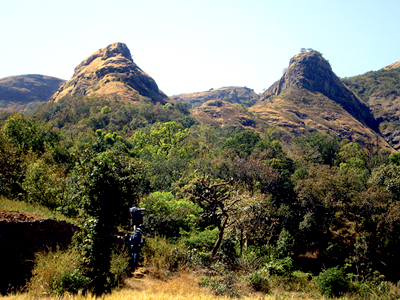 Bhairavgad (Shirpunje)
---
Location Type
---
Hill Fort
Best season
---
All
Distance from nashik
---
110 K.M.
Trekking facts
---
Way:
Towards the South from Shirpunje village
Time To Climb :
2 hours 30 mins/1 day trek
Difficulty Level:
easy
Spread:
Medium
Water Availability:
Ample, caves and water tanks on top
Carry Along:
No special equipments
Guide:
Available at Shirpunje. It is necessary
How to reach
---
NASHIK to Bhairavgad (Shirpunje)
Reach By Car:
Convenient by car. Sharing vehicles available from Rajur
Reach By Bus:
Buses available from Nashik till Rajur. Change bus from there for Shirpunje ahead.
Reach By Train:
Trains availabe up to Nashik Road.
By Boat:
No boat route.
Facilities available

Accommodation

Food

Garage

Medical aid

Near By Places

Petrol Pump

Shelter

Souvenir
---
Location Details
---
The hill has a temple of Bhairav (the God of tribal people) on the East which gives it, its name. Bhairavgad was one of the forts built by the Kings of Panhala. The garrison in maratha times was furnished by soldiers sent from Satara. There are no traces of houses and the walls are in ruins. In the last Maratha war, Bhairavgad was captured by the British on the 23rd of May 1818. A message brought down the native offi cer in charge of the fort with a party of the garrison, who promised to surrender next morning on condition that the arms and property belonging to him and the garrison about a hundred strong were respected and escorted to Patan. The fort was accordingly taken without any bloodshed.
User Experience
---
As one travels along the Mhalsej Ghat road, one notices a sharp pinnacle of Bhairavgad, separated from the main range. It is a prominent and unique forest type fort. The region has densely placed trees at some places and barren land at others. Towards the South-West is the Bhandardara dam, but Sindola stands as a strong wall depriving one of the dam's view. From the Shirpunje village, one can walk towards the South, from the farmlands, along with the sparsely placed trees, to the foothills of Bhairav. It takes an hour to reach the valley of Ghanchakkar - Bhairavgad and one has to climb towards the East to reach the top of Bhairavgad. There is a cave carved into the rocks at the South which has a Bhairav temple. At the right side of the temple one directly reaches the water reservoir. At the backside of the fort there are two water reservaoirs. From there one is able to see dense forest of the Koyana. The South-West offers a mesmersing view of Harishchandragad, Kunjhargad.
Do Not Miss
---
• Bhairoba temple. • Caves and tatbandi. • The Bhairav cave, a carved image of Khandoba on horseback and some carved pillars. • Rock-cut caves and water cisterns. • The Shivling in a cave. • Views of Malshej Ghat, Nane Ghat. • Views of peaks such as Ajoba and Harishchandragad.
Treks scheduled
Trek Date
No of people
Charges