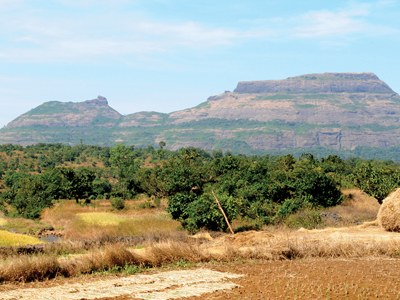 Kaladgad
---
Location Type
---
Forest Fort
Best season
---
All
Distance from nashik
---
133 K.M.
Trekking facts
---
Way:
From South side of Kaladwadi village
Time To Climb :
2 hours / half day trek
Difficulty Level:
easy
Spread:
Medium
Water Availability:
Available in the caves on North side near Bhairoba temple
Carry Along:
Climbing rope and other technical equipments.
Guide:
Take one from Pachnai or Kaladwadi village
How to reach
---
NASHIK to Kaladgad
Reach By Car:
Convenient by car. Rent a car facility available at Nashik. Taxis and sharing vehicles available from Rajur.
Reach By Bus:
Buses available up to Rajur. Change transportation from there for Pachnai / Kaladwadi.
Reach By Train:
Trains availabe up to Nashik Road and Igatpuri.
By Boat:
No boat route.
Facilities available

Accommodation

Food

Garage

Medical aid

Near By Places

Petrol Pump

Shelter

Souvenir
---
Location Details
---
Kaladgad has not witnessed any historical event or any battle and so has remained away from creating history.
User Experience
---
To the North of Harishchandragad are the river basins of Mula. Along the banks of Mula river stands the trio of Kaladgad, Bhairavgad and Kunjhargad. Kaladgad lies at the foothills of Harishchandragad. Pachnai is a small village which lies between Kaladgad and Harishchandragad. With the company of dense trees and small hills, it takes almost 1 and ½ hour to reach water tank at the foothills of Kaladgad. The fort visible at the left is Kaladgad. After climbing from the dense forest of Karvi trees for around half an hour, one reaches the narrow stone steps carved in the rock. Climbing these steps is a rock wall which has small niches made in it just to get the grip with one's hand and feet. One has to carefully climb from here to reach stone steps climbing which one reaches the fort top. This fort is quite difficult to climb. After reaching the top, seeing the sky high mountain peaks around the clear water of Mula river and the river banks carpeted with lush green is just enough to make one forget the diffi cult climb. There is a small cave having number of carvings of Gods. There are two water tanks near the cave. The pinnacle of Kaladgad is visible here which is locally know as 'Kalad cha angtha' meaning the thumb. Going behind the caves, is a way towards the fort. There are not much remains on the fort but the view it offers is beyond imagination.
Do Not Miss
---
• Bhairoba temple built in caves on North side. • Water tanks on East side. • Open to sky Vetal temple on South side. • BaleFort (citadel) on North side. • Plinths and remnants of historical structures on North side. • East side view of Harishchandragad. • West side view of Kumchetcha Kombda Sulka. • North-West view of Ajoba peak. • View of Katrabai Khind and Ratangad on North side. • South side view of Nakta hill & Malshej Ghat range.
Treks scheduled
Trek Date
No of people
Charges