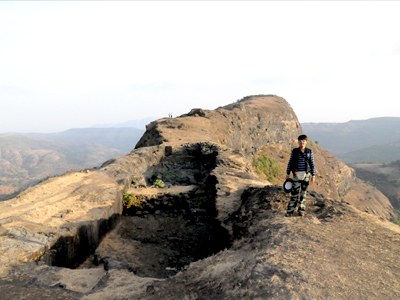 Kunjargad
---
Location Type
---
Hill Fort
Best season
---
All
Distance from nashik
---
111 K.M.
Trekking facts
---
Way:
Take South - East route from Vihirgaon or from Fokassandi take North route to fort.
Time To Climb :
2 hours 30 mins / 1 day teak preferable stay for 1 night.
Difficulty Level:
easy
Spread:
Medium
Water Availability:
Water available in small cave on East side on top up to January - February.
Carry Along:
Tents (for stay)
Guide:
Available at Vihirgaon. It is necessary
How to reach
---
NASHIK to Kunjargad
Reach By Car:
Convenient by car. Rent a car facility available at Nashik. Sharing vehicles available from Rajur to Vihir.
Reach By Bus:
Buses available from Nashik to Rajur. Change bus from there to reach Vehir (less frequency)
Reach By Train:
1) Train available up to Igatpuri. All trains taking Nashik route stop at Igatpuri 2) Khireshwargaon route - from Nashik - take Pune road reach Aale phata 120 km – take right reach Khubigaon before Malshej ghat 45 km take right reach Khireshwargaon 2km – from there reach Fokassandi.
By Boat:
No boat route.
Facilities available

Accommodation

Food

Garage

Medical aid

Near By Places

Petrol Pump

Souvenir
---
Location Details
---
The meaning of the word Kunjhar means Elephant. This fort is also known as Kombad Fort. After plundering Surat for the second time in October 1670 A.D, Chattrapati Shivaji Maharaj, on his way back, decided to take rest at Kunjhargad. Shivaji Maharaj planned his future strategies with Anandrao, Prataprao and Vyankoji. Here they got to know that after being unsuccessful at conquering Shivneri, Moropant had conquered the fort of Trimbak. Understanding the tensions going on in the minds of the Mughals, Shivaji Maharaj and his army rested here for almost 15 days.
User Experience
---
Visible towards the South of the village was the Balaghat mountain range, and in front was Kunjhargad creating anxiety. It takes almost an hour to reach. The base village looks like a scene painted on the canvas of greenery. Vihir and Talegaon looked simply amazing. The remains of the fortification and bastions seen while climbing, fills one with excitement. Observing the picturesque beauty all around, one will wonder how Chhatrapati Shivaji Maharaj used to walk here. The steps to the East leads one to the remains of the entrance gateway. After walking over a small distance one sees cave like water tanks towards left Towards the East, at right is the Mahakay Mountain. There are around 10 to 15 carved tanks at the top.
Do Not Miss
---
• Buruj and tatbandi on South side. • Remains of old monuments (walls, door, plinth) at the center of the fort. • Remains of old structure and hidden tunnel on the North side. • Buruj on North side valley edge of the fort. • View of Vetal mountain (hill) on West side. • View of Bhairavgad fort (kothale village) on North - West.
Treks scheduled
Trek Date
No of people
Charges