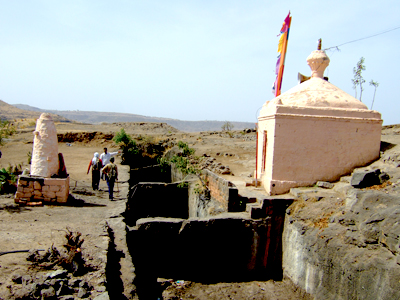 Pemgiri fort
---
Location Type
---
Hill Fort
Best season
---
All
Distance from nashik
---
77 K.M.
Trekking facts
---
Way:
From East side of Pemgiri village.
Time To Climb :
1 hour 30 min / 1 day trek
Difficulty Level:
easy
Spread:
Medium
Water Availability:
Water tanks at the middle level.
Carry Along:
No special equipments.
Guide:
Take guide from Pemgiri village.
How to reach
---
NASHIK to Pemgiri fort
Reach By Car:
Convenient by car. Rent a car facility available at Nashik. Taxis and sharing vehicles available from Sangamner.
Reach By Bus:
Buses available from Nashik till Sangamner. Take Akole bus from there, get down at kalasgaon phata. Sharing vehicles / Taxis available ahead till Pemgir
Reach By Train:
Trains availabe up to Nashik Road.
By Boat:
No boat route.
Facilities available

Accommodation

Food

Garage

Medical aid

Near By Places

Petrol Pump

Souvenir
---
Location Details
---
The history of Pemgiri is associated with Shahaji Maharaj. On 1st March 1633, the Mughals surrounded Daulatabad. According to Shahjahan's orders, they were determined to end the Nizam rule at any cost. On 17th June 1633, the Nizams surrendered and Daulatabad became a Mughal property. Shahaji Maharaj gave Pemgiri fort to the Nizams in order to keep their administration functioning. But the governing person here was Shahaji Maharaj of the Maratha dynasty. This did not prove fruitful. However in the reign of Chhatrapati Shivaji Maharaj Pemgiri was a part of the Swarajya. It was known as Pemgiri, Shahagad, Bhimgad.
User Experience
---
Pemgiri stands on one of the trunks of the Baleshwar range. On the top is an East facing temple of the Goddess. Water tanks carved out in the rocks can be seen. The complete Baleshwar range spreading North-South is visible from the top. To the South of Pemgiri village, in the laps of Baleshwar hill is a Banyan tree which has spread in 4 acres of land. There is a palace like Vitthal temple in the base village. To the South end of the village is a stepped well which bears stone inscriptions. It takes and hour to reach the top of the fort from the foothills. At the Eastern end is an East facing temple of the Goddess Pema Devi. Near the temple of the Goddess Pema Devi. Near the temple are 4 rock cut water tanks. Behind the temple are the remains of the old structures. The fortifcation wall and bastion are seen towards the South.
Do Not Miss
---
• Pema Devi temple on top. • Water tank on East side. • Middle level remnants of Bale Fort (citadel). • North side Hanuman temple at middle level. • West side view of Baleshwar range. • Banyan tree spread in 4 and half acres.
Treks scheduled
Trek Date
No of people
Charges