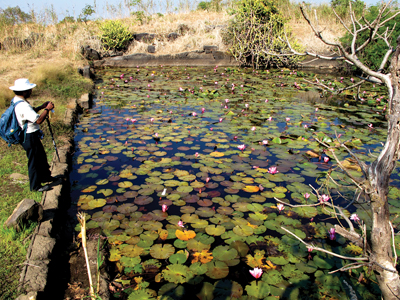 Asherigad
---
Location Type
---
Forest Fort
Best season
---
All
Distance from nashik
---
137 K.M.
Trekking facts
---
Way:
1) Take North route from Khadkavalne village 2) From Highway near Medhavan (North-East), but diffi cult
Time To Climb :
2 hours / 1 day trek
Difficulty Level:
easy
Spread:
Medium
Water Availability:
Ample, four water tank on South side and South-West side
Carry Along:
No special equipments
Guide:
Take guide from Khadkavalne village
How to reach
---
NASHIK to Asherigad
Reach By Car:
Convenient by car. Rent a car facility available at Nashik. Taxis and sharing vehicles available from Charoti phata up to Khadkavalne.
Reach By Bus:
Take Palghar bus from Nashik. Get down at Charoti Junction.
Reach By Train:
Trains availabe up to Dahanu and Nashik Road.
By Boat:
No boat route.
Facilities available

Accommodation

Food

Garage

Medical aid

Near By Places

Petrol Pump

Shelter

Souvenir
---
Location Details
---
Of all the small forts scattered around the Palghar region, Asheri can be termed as the "Elder Brother" due to its massiveness. The fort looks impressively strong. History mentions that Bhojraj - II, a descendant of the Shilahar Dynasty built this fort, so it can be assumed that this fort is at least 800 years old. The Portuguese rebuilt this fort after they captured it. In 1737, the Peshwas won this fort during their campaign of the Konkan. Conflict between Peshwas and Portuguese continued and within few months, Portuguese re-captured the fort. In a counter attack the Peshwas won the fort in 1738 and in 1818 this fort came under the British rule.
User Experience
---
The vast expanse of fields, cultivation of mango trees and houses peeping from the greenery drives away the tiredness of the journey. One does not feel the heat through the dense jungle even in the summer. After reaching the pass, one can see a small beautiful temple of Wagdev. Take a right and a small sculpture of Ganesh is seen on the rock. As the climb is quite zigzag and steep, it is advisable to take help from someone expert in climbing. After exhausting enthusiasm to climb, we reach a flight of rock cut steps to the right. To the left, below the route are 5 water tanks excavated into the rocky ground. Going down this route, we come across three more water tanks with very clear, sweet and thirst quenching water. A cave is carved on the rock face nearby on right hand side in such a way that the stray wind or the cold does not enter in. From the South- East one can see a clear view of the grand Mumbai-Ahemdabad highway.
Do Not Miss
---
• West side carved motive of waghdev on wooden post. • Damaged stone steps and Remnants of Entrance door on West side. • Water tank next to entrance door. • 5 water tanks on the South - West side. • 3 water tanks on East side. • Remnants of old structure and Caves on the table land above. • South side view of Kohoaj fort. • South-East side view of Mumbai - Ahmedabad Highway. • East side view of Adsule fort.
Treks scheduled
Trek Date
No of people
Charges